We are always working hard to create more options for our customers, and this month is no exception. Here we feature our personal favourites of the newest additions to our extensive design catalogue. There are also a couple of special mentions, for our brand new 2021 vinyl product and for our favourite customer photo from the past month.
Abut
A lovely middle ground between vintage pencil drawing and modern cartoon/comic book graphic styles, Abut makes the leap with a cloudy scene. A bold piece, but with a classy monochrome finish this blends to suit most rooms as an exciting feature, or try it as a backdrop to shelves!
Canous
Soothing watercolour blues make this mural a very relaxing environment. The colour leads the mind towards tranquil skies and seas, whereas the shapes depict mountains. This is dreamy personified! Who knew a wall could help you relax this much?
Answing
All of our designs are special, but this one is extra special... As simple as this mural may seem, there are so many elements and extra details. With lovely paint strokes linking blue, pink and white, this screams neoclassical or impressionist painting. Couple that with the incredible canvas texture detailing and guests will be wondering how you installed a canvas wall!
Abhor
Relaxing watercolours with interesting shapes, this design is a perfect combination of abstract shapes and soothing colours. Somehow we have managed to pull off the impossible with this bright-but-neutral design! Perfectly blending into the background day to day, but when concentrated on gathers your interest. It really is no wonder we have picked this out to showcase.
Bluebell Wrap
Can you tell we like watercolours? This vinyl furniture covering is just too good to leave out. A new product for 2021, restowrap vinyl furniture coverings breathe life into boring flat surfaces such as desks, tables, or even a bathroom splashback as pictured here - let your imagination run wild! The bell-shaped tiles with watercolour blues create a lovely rustic homely feel that is very easy on the eye! You can check out all of our vinyl furniture wraps here.
Special Mention - Favourite Customer Photo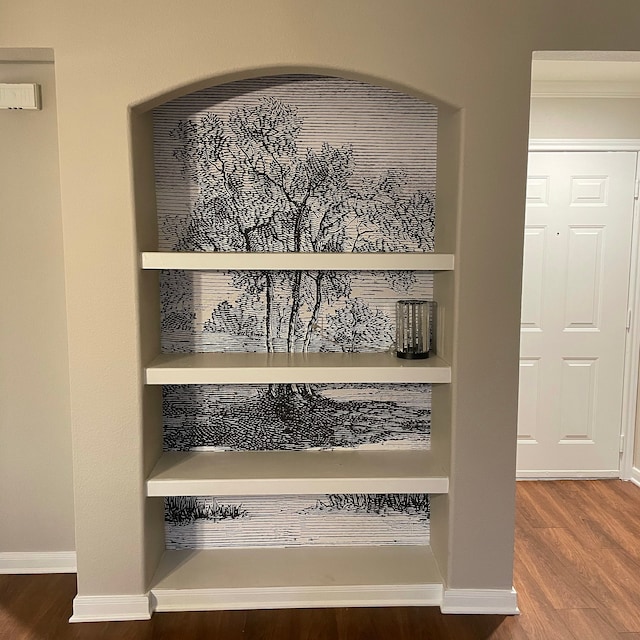 Our favourite customer photo we have received over the past month has to be from Lauren. We love the inventiveness to use our wallpaper in this way! Lauren said "Beautiful! In love with this wallpaper!" and we couldn't agree more. Thanks for sharing Lauren!
~~~~~~
Well, that about wraps up our new product feature! Unfortunately there are so many designs we had to leave out - this list could have been very long. These are just a small pick of the new things going on in our shop, so don't forget to keep an eye on the 'New Arrivals' section!
Ciao for now, WM.com x